•Classes    •Competition    •Concerts
A 6-Day Education Program
Master Classes, Lectures, Workshops, Private Lessons and Guitar Orchestra
Students from Middle School thru College & Grad School
Adult Aficionados - No Age Limit
Competition
Virtual for Artists and College Divisions
In-Person for Middle School and High School
Concerts
2 Nights — Open To the Public — Ticketed Event
World-Renowned, National & International Guest Artists
The Festival Guitar Orchestra
It's about the students!
Following our last in-person Festival in 2019, a participant wrote the following:
"…I didn't really know what to expect going into it. What I found was a beautiful whirlwind - all guitar, all day, every day, all week - and I miss it already. (Life should have this much music in it all the time...) The week was filled with so many exciting things: performances by world-class guitarists, private lessons (same), master classes, workshops (both theory and composition - we were individually guided through writing our own etude), guitar orchestra, lectures – you more than get the idea. 😂 I'm so grateful to have had the opportunity to meet, hang out and make music with this wonderful group of people. So much talent all around, but also warmth, encouragement and generosity. I'm amazed by how much I learned and I've come away inspired and eager to work on all these new ideas…"
Join us in  2022, won't you?
Classes
Among the festival offerings are classes, workshops, master classes and private lessons by guest artists and core faculty. The topics change yearly but always include theory and technique. The Festival Orchestra meets daily to rehearse a program they perform in the Saturday night concert. An exhibition by a private collector's rare guitars is always popular and a luthier will enlighten you on guitar building. 
It's not all academic. Camaraderie is important. The nail-care session is an eye-opener and can be a hoot (glued-on ping pong balls). One day we have a popular exhibitors showcase with a complimentary lunch and Lasagna Night with a voluntary recital is always fun.  Students build relationships during the week and many come back each year to renew old friendships.
See the Festival Schedule
Competition
There are 5 levels of competition:
        •Artist Division
        • College Division I (For advanced players in 2-Year OR 4-year colleges.
        • College Division II (For intermediate players in 2-year OR 4-year colleges
        •High School Division
        •Middle School Division
Musicale – for those who do not wish to compete. Students can play for one or more teachers and receive feedback on their skill and musicality in a non-judgmental environment. Open to all in-person festival participants.
 See the Competition Rules
Consider competing this year!
Concerts
Our 2022 concerts will be live in the Sanctuary of St. Philip Presbyterian Church. The acoustics are superb for all classical guitar performances – solo or ensemble. Some performances might include other instruments, but we always feature the guitar.
---
2022 Artists & Guest Faculty
Jason Vieaux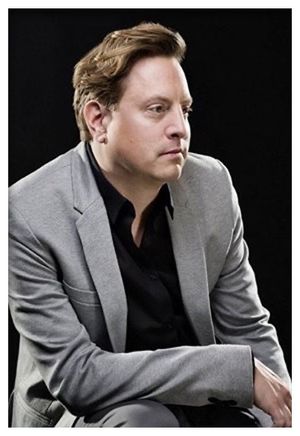 Grammy-winner Jason Vieaux, "among the elite of today's classical guitarists" (Gramophone), is the guitarist that goes beyond the classical. NPR describes Vieaux as "perhaps the most precise and soulful classical guitarist of his generation." Among his extensive discography is the 2015 Grammy Award winning album for Best Classical Instrumental Solo, "Play". 
Vieaux has earned a reputation for putting his expressiveness and virtuosity at the service of a remarkably wide range of music, and his schedule of performing, and recording commitments is distinguished throughout the U.S. and abroad. 
Jason Vieaux has performed as concerto soloist with over 100 orchestras, including Cleveland, Toronto, Houston, Nashville, San Diego, Buffalo, Auckland Philharmonia, and Orchestra of St. Luke's. Recent and upcoming highlights include performances at Caramoor Festival as Artist-in-Residence, Chamber Music Society of Lincoln Center, Philadelphia Chamber Music Society, Curtis Presents, Phillips Collection, National Gallery of Art, San Francisco's Herbst Theatre, Buenos Aires' Teatro Colon, Amsterdam's Concertgebouw, New York's 92Y, Domaine Forget International Festival, Carmel Bach Festival, and Ravinia Festival. 
He has forged his reputation as a first-rate chamber musician and programmer through performances with the Chamber Music Society of Lincoln Center, Bard Music Festival, Music@Menlo, San Francisco Performances, Cleveland Chamber Music Society, Strings Music Festival, Grand Teton, and many others. Chamber music collaborators include the Escher Quartet; Grammy-winning mezzo-soprano Sasha Cooke; violinists Anne Akiko Meyers, Kristin Lee, and Tessa Lark; acclaimed harpist Yolanda Kondonassis; and accordion/bandoneon virtuoso Julien Labro.
Vieaux's passion for new music has fostered premieres of works by Jonathan Leshnoff, Avner Dorman, Jeff Beal, Dan Visconti, David Ludwig, Vivian Fung, José Luis Merlin, Mark Mancina, and more. Jason recently premiered Visconti's "Living Language" Guitar Concerto with the California Symphony and has performed the work over a dozen times since.
Vieaux's latest CD release, Dance (Azica) with the Escher Quartet, includes works by Boccherini, Castelnuovo-Tedesco, and Aaron Jay Kernis. His premiere recording of Jonathan Leshnoff's Guitar Concerto with the Nashville Symphony (Naxos) was also released in 2019. Later this season, he will release a new solo Bach album on Azica. In addition to his Grammy-winning solo release Play, his previous albums include Jeff Beal's "Six Sixteen" Guitar Concerto with the Norrköping Symphony Orchestra (BIS); Infusion (Azica) with accordionist/bandoneonist Julien Labro; Ginastera's Guitar Sonata, on Ginastera: One Hundred (Oberlin Music) produced by harpist Yolanda Kondonassis; Together (Azica), a duo album with Kondonassis; a recording of Astor Piazzolla's music with Julien Labro and A Far Cry Chamber Orchestra; Bach: Works for Lute, Vol. 1; Images of Metheny; and Sevilla: The Music of Isaac Albeniz. Vieaux was the first classical musician to be featured on NPR's popular "Tiny Desk" series.
In 2012, the Jason Vieaux School of Classical Guitar was launched with ArtistWorks Inc., an unprecedented technological interface that provides one-on-one online study with Vieaux for guitar students around the world. In 2011, he co-founded the guitar department at the Curtis Institute of Music, and in 2015 was invited to inaugurate the guitar program at the Eastern Music Festival. Vieaux has taught at the Cleveland Institute of Music since 1997, heading the guitar department since 2001.
Vieaux is affiliated with Philadelphia's Astral Artists. In 1992 he was awarded the prestigious GFA International Guitar Competition First Prize, the event's youngest winner ever. He is also honored with a Naumburg Foundation top prize, a Cleveland Institute of Music Distinguished Alumni Award, and a Salon di Virtuosi Career Grant. In 1995, Vieaux was an Artistic Ambassador of the U.S. to Southeast Asia. His primary teachers were Jeremy Sparks and John Holmquist.
Jason Vieaux is represented by Jonathan Wentworth Associates, Ltd and plays a 2013 Gernot Wagner guitar with Augustine strings. (jasonvieaux.com)
Juan Carlos Laguna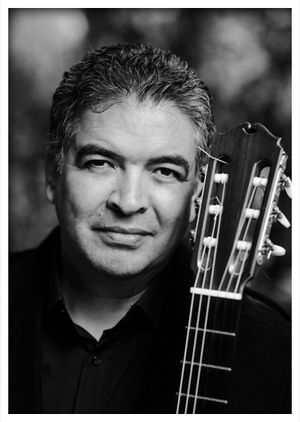 Juan Carlos Laguna, has garnered many awards and distinctions as a full-time professor of the highest level at the Escuela Nacional de Musica of the Universidad Nacional Autonoma de Mexico teaching preparatory, bachelors, masters, and doctoral students since 1989. His students continue to be the most distinguished in Mexico having won over 25 first place finishes in national and international solo and ensemble competitions and who have continued their careers as performers and outstanding professors at schools and universities across Mexico. In the over 80 years of existence of the Escuela Nacional de Musica, Dr. Laguna has become the teacher with the most students to graduate with a bachelor's degree and continue careers in music than any other studio.
Since the beginning of his professional career, Laguna has won multiple awards in national and international competitions, including first place in the prestigious Tokyo International Guitar Competition in 1991, the first time a Latin American guitarist ever won the prize.  As a performer and recording artist, Laguna works to preserve the Mexican sound memory and is viewed as one of the most prominent personalities in the field of new music. His premieres and dissemination of contemporary works in Mexican culture are respected around the world, and has led to invitations as a featured artist in forums, meetings and festivals throughout the Americas, Europe, Africa, and Asia.  
His record production has more than 30 solo recordings, a witness to his creativity, talent and originality. Recordings were produced in England, Japan, France, and Mexico under the Audivis, Forlane, Kojima Recordings and Urtext Digital Classics record labels.  He has been a recipient of the  FONCA arts grant on many occasions where he has brought to life premiere projects, recordings, and disseminations of contemporary Mexican music.  He has also been a member of a select group of the Fine Arts Concert Artists of the National Institute of Fine Arts where he has developed invaluable work as a concert soloist and chamber musician since 1989.
As an academic, he has served as a jury member in important national and international competitions, given lectures, presentations and workshops, and master classes at institutions of higher learning such as Southern Methodist University, Toronto University, Kansas University, Tulane University, London Royal School of Music, Havana Higher Institute of Art and Cordoba University School of Music in Argentina. His interest in Mexican concert music is reflected in his work as a reviewer and editor of various publications for guitar in Mexico, Italy and Japan. In 2019, he completed a one year sabbatical as guest professor at University of Toronto's School of Music in Canada.  Laguna obtained his masters in University Teaching from the South Anahuac University and his Doctorate in Music with Honors from the UNAM Music School. 
In addition to his role as a concert artist, Juan Carlos Laguna has combined in an extraordinary way his teaching activities and concert playing with his work as a producer, presenter, and promoter of classical guitar music. Since 2000, he has achieved this through his artistic direction and coordination of the Taxco International Guitar Festival and the UNAM Guitar Summit in Mexico City.  He has also held numerous positions within the collegiate bodies of FAM as Technical Advisor, University Advisor, Disseminating Commission member and PASPA Commission member.


JIJI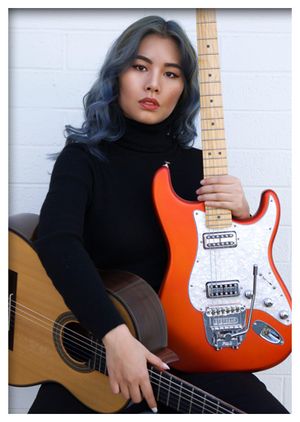 Applauded by the Calgary Herald as "…talented, sensitive…brilliant," JIJI is an adventurous artist on both acoustic and electric guitar, playing an extensive range of music from traditional and contemporary classical music to free improvisation.  Her impeccable musicianship combined with compelling stage presence and fascinating repertoire earned the Korean guitarist First Prize at the 2016 Concert Artists Guild International Competition.
The Kansas City Star described JIJI as "A graceful and nuanced player," adding that "…she presented an intimate, captivating performance." Career highlights include a wide array of venues, including Carnegie Hall, 92ndStreet Y, Festival Napa Valley, Krannert Center, Purdue Convocations, Virginia Arts Festival, National Sawdust, Miller theater, Mass MOCA, Subculture NYC, Philadelphia Museum of Art, Princeton Sound Kitchen, and the Metropolitan Museum of Art.  Her upcoming 20-21 season highlights include performances at the Green Music Center, Market Square Concerts, University of Delaware and concerto performances with the Richmond Symphony and Sinfonietta Riga in Latvia.
A passionate advocate of new music, Jiji has premiered a duo piece Talking Guitars by renowned composer, Paul Lansky, released on Bridge Records.  She has premiered works by numerous emerging composers, including Nina C. Young, Gabriella Smith, Riho Maimets, Krists Auznieks, Gulli Björnsson, Andrew McIntosh, and Farnood HaghaniPour.  She also performs her own compositions, incorporating electronic media and acoustic music.  Her music is influenced by her regular activities as a DJ, where she highlights the electronic dance styles of happy hardcore and Berlin experimental electronica. As a chamber musician, she performed with members of Eighth Blackbird, Bang on a Can All-Stars, wild Up, and the Aizuri Quartet. Her performances have been featured on PBS, NPR's From the Top, WHYY-TV, FOX 4-TV, Munchies, The Not So Late Show, and Hong Kong broadcast station RTHK's The Works.
JIJI is currently based in Tempe, Arizona where she holds the post of Assistant Professor of Guitar at Arizona State University. She is sponsored by D'Addario Strings (jijiguitar.com)
Samuel Hines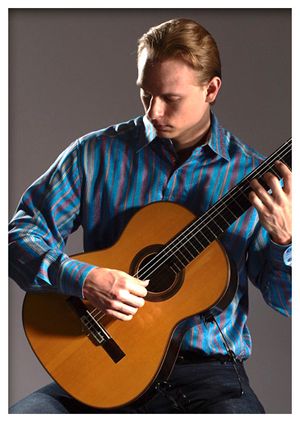 Praised for, "Virtuosity and deep musical interpretation", Samuel Hines is an award-winning guitarist from Southern California. World-renowned Cuban guitarist, René Izquierdo has described his pupil as, "A profound musician, Samuel Hines has matured to become a remarkable guitarist. His artistry will touch many!"
An Augustine Strings Artist, Hines maintains a busy performance schedule and has been a guest artist at the 2018 Florida Guitar Festival, 2018 East Carolina Summer Guitar Festival, 2018 Latino Arts Strings Festival in Wisconsin, and the 5th Latin-American Guitar Festival in Chicago, among others.
Hines has won prizes in over 35 competition, with recent first prizes including the 2019 Houston Guitar Festival, the 2019 Gohar and Ovanes Andriassian Competition at Cal State LA, the 2019 New Orleans International Guitar Festival, the 2019 Appalachian Guitarfest, the 2017 Florida Guitar Festival, the 2017 East Carolina University Guitar Festival, and the 2015 Sierra Nevada International Guitar Festival. Hines was also a competitor at the prestigious Parkening International Guitar Competition, selected as one of 15 competitors from around the world at the 2012, 2015 and 2019 editions.
His educational background includes a Bachelor of Music from Vanguard University of Southern California with Michael Nigro, a Master of Music at University of the Wisconsin-Milwaukee with René Izquierdo and is pursuing his Doctor of Musical Arts with Maja Radovanlija as teaching assistant.
Samuel Hines plays a 2014 Antonio Marin Montero on Augustine Regal Blue Strings. You can keep up to date on news and upcoming concerts at www.samhinesguitar.com or follow him on social media at www.facebook.com/samhinesguitar.
Sarah Medwick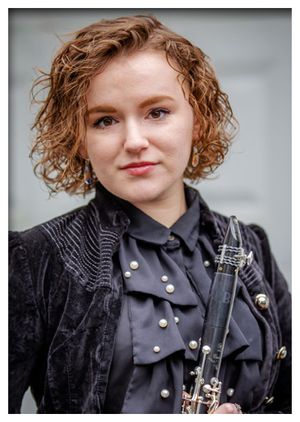 Sarah Medwick, a native of Louisiana, is student of clarinet music performance major at McNeese State University in Lake Charles, Louisiana. Sarah is a member of the McNeese Wind Symphony, and other ensembles including the Symphonic Band, Dixieland Jazz Combo, and the Clarinet choir. She also regularly performs Sunday nights with the Jay Ecker Quartet as a guest artist.
She holds scholarships with the W.A Hanna Department of Performing Arts as well as the John McNeese Scholarship, awarded by the university for academic achievement. Sarah was also awarded the 2019 Chester Daigle II Scholarship for jazz performance and the John Philip Sousa award recognizing superior musicianship, dependability, loyalty and cooperation. Sarah has studied with renowned clarinetists such as Boris Allakhverdyan, principal clarinetist of the L. A. Philharmonic, Paul Cigan, clarinetist in the National Symphony Orchestra, and Jan Scott from McNeese State University, with whom she has studied for seven years. Notable musicians with whom she has performed include "The Clarinet Queen" of New Orleans, Doreen Ketchens, and Mickey Smith, Jr., a Grammy award winning music educator and saxophonist. Sarah has performed under the baton of Mark Gigliotti, co-principal bassoonist of the Philadelphia Orchestra.
Noteworthy achievements include being principal clarinetist 2017 and 2018 for Louisiana All State bands, a three-year member of the Louisiana All State bands, a principal clarinetist at the 2018 Philadelphia International Music Festival, and a four-year member of the District V Louisiana Honor Band. Sarah is also involved in many nonprofit organizations such as Musicmakers2U, Jazz in the Arts, and the Dr. Francis G. Bulber Youth Orchestra, all dedicated to helping young musicians find their sound. When not making music, Sarah loves hiking, canoeing, and traveling with her family and friends.
— Core Faculty —
Jay Kacherski – Artistic Director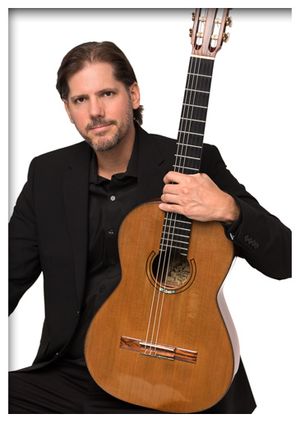 "Virtuosismo" and "technical dominance" are the words used by the press to describe American guitarist, Jay Kacherski.  A native of New York, Kacherski has performed around the world as a soloist and member of the highly praised Texas Guitar Quartet. He has performed at distinguished music festivals and venues such as the Festival International de Guitarra de Taxco, Mexico, the Florida Guitar Foundation, the Brevard Music Center, Round Top, the New Orleans International Guitar Festival, the Southern Guitar Festival, and the International Guitar Art Festival in Shenzhen, China. He has also collaborated with Grammy-winners and nominees such as the chamber choir Conspirare, Chilean flutist Viviana Guzman, and the Los Angeles Guitar Quartet.
Jay Kacherski spent two years living in Mexico as a Fulbright Scholar and member of the guitar faculty at the Escuela Nacional de Música, the music conservatory for the National University of Mexico (UNAM) researching, performing, and promoting contemporary classical guitar music of Mexico.  His guide and teacher for this work was the world-renowned Mexican guitarist Dr. Juan Carlos Laguna.  Kacherski has since premiered and recorded many new works from Mexico and has created a complete catalog of Mexican guitar works with links to videos, audio, scores, and more that can be found at www.kacherskiguitar.com.  His debut solo album Synthesis has been released on Frameworks Records and is comprised of all new works from Mexican composers of the 20th and 21st Centuries.
Jay Kacherski is currently on the guitar faculty at Loyola University of New Orleans, the University of New Orleans, and McNeese State University, as well as NOCCA, the New Orleans Center for Creative Arts. He has presented at music conventions and festivals throughout the U.S. and is often invited to adjudicate at national and international competitions. As a teacher, his students have been finalists and winners of international solo and chamber music competitions and recipients of scholarships for continued study. He is the director of the Artistic Director of the Houston Classical Guitar Festival and Competition in Texas and the Loyola Guitar Festival in New Orleans as well as the Director of the Francis G. Bulber Youth Orchestra Guitar Program. His academic studies include a Doctor of Musical Arts degree from the University of Texas at Austin, a Master of Music degree in Guitar Performance and Literature from the Eastman School of Music, and undergraduate degrees from Florida Southern College where he graduated with honors. (kacherskiguitar.com)
Jeremy Garcia – Associate Artistic Director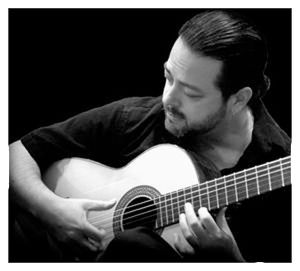 Jeremy García – guitarist, composer and educator – has performed as a classical and flamenco guitarist throughout the United States. He recently collaborated as a soloist with the Houston Grand Opera in their highly acclaimed 2021 production of Suite Española - Explorando Iberia (virtual performance with the renowned soprano Ana María Martinez and Manuel Gutierrez, bailaor).
A noted composer, his Suite Andaluz was based on the music of Federico García Lorca and composed for song, guitar, cajón, castanets, and full orchestra. He performed this work with the Helena Symphony (Montana), and in Texas with the Brazosport Symphony and Grace Symphony. He co-wrote Concerto Nuevo Flamenco with Rosendo Reyna of García y Reyna and performed it with the Brazosport Symphony, Fort Bend Symphony and the Kingwood Pops. He has performed the ever–popular Concerto de Aranjuez by Joaquin Rodrigo many times in Texas and also with the Freemont Symphony Orchestra (Wyoming) and the Helena Symphony (Montana).  The press has described his playing as "- masterfully executed guitar work and a relentless Spanish rhythm." (Alexander Dorian, Houstonbands.net) and  "...incredible finger fire." (Molly Glentzer, Houston Chronicle).
He has recorded two CDs, García y Reyna's Baile del Sol and Café Khytaro's Distancia. In 2009 Garcia co-founded Solero Flamenco, Houston's premier flamenco performance company, along with Irma La Paloma; the two subsequently co-founded and directed the Houston Spanish and Flamenco Festival (2011-2016). They have performed together and with the ensemble throughout the nation.
García enhanced numerous festivals as a soloist and technician, giving master classes and workshops on technique and composition.  He has also collaborated with many top flamenco artists.
As an educator, Garcia served as Director of Guitar Studies at San Jacinto College for 20 years. He currently serves as the Associate Artistic Director of the Houston Classical Guitar Festival and Competition. He has a Bachelor of Music degree in Classical Guitar Performance from Texas A&M University–Corpus Christi and a Master of Music degree from Southern Methodist University in Dallas. (jeremygarcia.net)
Eddie Healy – Education Director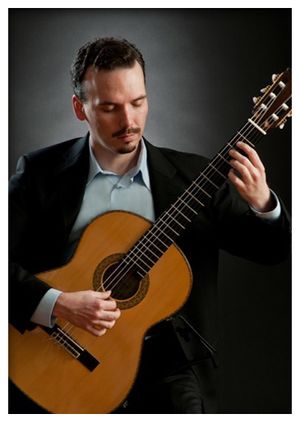 Eddie Healy serves on the Board of Gulf Coast Guitar Association as Education Director of the Houston Classical Guitar Festival & Competition. A prolific composer and concert guitarist, Healy has performed in Spain, Mexico, and the United States. In Mexico he was featured at the 19th Annual International Guitar Festival of Morelia, the 4th Festival Internacional de Guitarra Ramón Noble, and annually in Spain at the ChamberArt Madrid Festival. He and his duet partner, Dr. Brandi Estwick, serve as faculty for the festival.
His original compositions have been performed by many artists throughout the world and can be heard on his CD, Direction. He has composed the theme to a series of podcasts produced by The University of Texas at Dallas titled "A Conversation With…", the theme for the Arts-Based Learning for Business video series, scores for several video games, commercials, and the alma mater for Rogers Middle School in Prosper, Texas. In 2012 Healy released a CD consisting exclusively of his compositions titled, Direction. James Scott of minor7th.com said that the recording "…is a triumph, offering the listener accessible compositions matched by immaculate performances." He published the sheet music for several of the compositions from Direction with Joachim-Trekel of Hamburg, Germany in 2010 and has eleven publications with Les Productions d'OZ to date.
In addition to his significant output as a composer Eddie has also done a great deal of arranging. He has arranged many pieces for voice and guitar, voice and guitar ensemble, and two voices and guitar ensemble. Most of them have been premiered by Healy and Dr. Estwick.
Healy is a faculty member at Dallas College and teaches at the Gray School of Music. He directs the Brookhaven-Allegro Guitar Orchestra, a community guitar ensemble in Dallas. Healy is the Assistant Director of the Texas International Guitar Competition & Festival as well as that festival's youth competition.
He received a Bachelor's in classical guitar performance at The University of North Texas and completed his Master of Music degree from Southern Methodist University. (www.eddiehealy.com)
Andrea Ricci Cannon – Outreach Director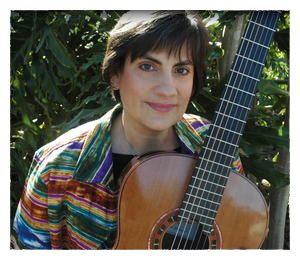 Andrea Cannon is a performer proficient in classical and jazz guitar. An alumna of Berklee College of Music, she studied Jazz Guitar Performance and also received an Outstanding Alumni Service Award. Post-Collegiate studies include Applied Performance in Classical Guitar with Robert Guthrie of Southern Methodist University.
Cannon directs Guitar Arts Pre-Collegiate Studio in Houston and is a jazz consultant to Spring Texas School District. She formerly directed applied guitar studies at Lone Star College-North Harris County. Her students have received awards for classical performance in competitions through Music Teachers National Association, Eastfield College, University of Texas-Dallas, the Brownsville Guitar Ensemble Festival, Houston Young Artists Concerts and the Guitar Foundation of America Ensemble Showcase. Jazz students have been selected to Region Jazz Ensemble and showcased twice at Midwest Band and Orchestra Clinic.
She travels internationally as a clinician and performer in Europe, Central and South America as well as cities throughout the USA and Canada. Cannon has been published in the American Suzuki Journal, Soundboard Magazine and American Music Teacher. She is certified through the Music Teachers National Association and is a Registered Teacher Trainer with the Suzuki Association.
The arts advocacy group Alarte of Guatemala City, Guatemala has created a scholarship in her name. The first recipient of the 'Beca Andrea Cannon' is enjoying the benefits of a new guitar as well as expert Suzuki instruction.
As Outreach Director of the Board of Directors of Houston Classical Guitar Festival & Competition, Cannon is responsible for augmenting guitar programs in the public schools and for sending our guitarists to perform in retirement communities and hospitals. (andreacannon.com)
Georgina Marielle Ramos Avalos – Teaching Assistant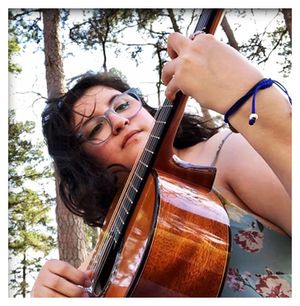 Georgina is a Teaching Assistant for the Beginner/Intermediate Education Program. She is a section leader in the Guitar Orchestra and helps beginner and intermediate students in theory class, gives private lessons and adjudicates the Middle School and High School Competitions.
She is pursuing her Masters degree in Higher Education Administration at Louisiana State University while working as Graduate Residence Coordinator.
Georgina graduated from UT-Tyler with a degree in Instrumental Music Education. Studying under Dr. Dan Kyzer, she formed the Classical Guitar Guild, a student-led club with the mission to help spread classical guitar across the East Texas region. She also performed at the 20th Annual Texas Guitar Competition along with her school quartet.
Earlier, she studied music and guitar education under Prof. Eddie Healy at Eastfield College. Before her family moved to Dallas, Georgina studied at Houston Community College with guitarist Marc Garvin.
Georgina began playing classical guitar in Tenth Grade in the famed guitar program at Bellaire High School along with 340 students in 40-minute periods every day. She studied under gifted guitar educators Edward Grigassy and Mark Moore. Georgina played in this school's Guitar Honors Program and in the All-City Secondary School Guitar Orchestra. She also attended UIL State Competition three years in a row, twice achieving a spot at State where she earned silver and gold medals for her solo and ensembles. An excellent student, Georgina's essay, "How Guitar Saved My Life" was presented at Austin Classical Guitar's teaching conference.  Georgina loves working with young adults. She developed her leadership skills as secretary for Bellaire's Guitar Club, as well as a section leader for the Bellaire Guitar Honors Ensemble. She has also helped yearly with the Summer Guitar Conservatory held at Pershing Middle School both as a coordinator and as a volunteer and she has volunteered and helped beginning students at the Houston Classical Guitar Festival and Competition since 2018.